Trade

Video Tour

Make an Offer
Remember, a trade consists of an offer, the acceptance of the offer, and a confirmation of the trade by the user who first made the offer. You can and should make multiple offers involving the same item. This will increase the possibility of a successful trade. An offer can be made for any other user's item.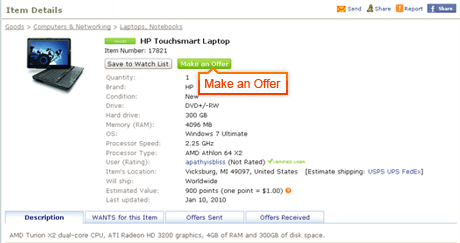 Counter Offer
A counter offer is an offer you make in response to an offer you received. Rather than simply declining the offer, you are responding with an offer of your own.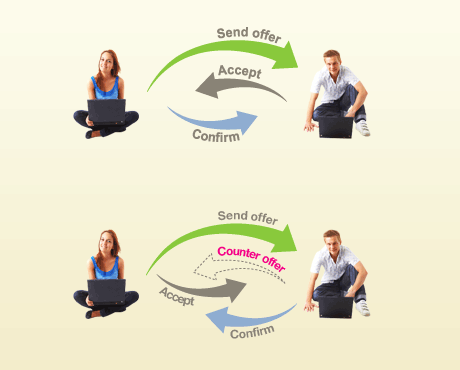 Accept
When you accept an offer you are making a 72 hour commitment to trade your item, pending only a confirmation of the trade. During this period your item is exclusively available for that trade. If the user who made the original offer does not confirm the trade but accepts another offer within the 72 hour period, your acceptance will convert to an offer for that user's item.
Confirm
This finalizes a trade by responding affirmatively to an acceptance within 72 hours. In the case of a MultiParty trade, the trade will be automatically confirmed when all the parties have accepted. You have now entered into a trade agreement.
Complete
Complete the trade by arranging for delivery of your item and providing feedback on your trading experience so that your trading partner can establish an accurate User's Rating.
What to do After the Trade is Confirmed
Goods: You are expected to ship your item within 72 hours, unless your trading partner agrees to other arrangements.
Service: Please provide your service on a timely basis.
Real Estate: You are expected to make your property available in clean and serviceable condition, on the agreed upon dates, unless your trading partner agrees to other arrangements. Your property will remain available for the dates that were traded unless you edit your available dates.


Payments Secured by PayPal
| | |
| --- | --- |
| BarterQuest uses PayPal to process all payments, including payments related to the transfer and redemption of points. BarterQuest is a PayPal verified merchant. | |