FREE Amazon Gift Certificate
Easy to Register, Post and Trade.
We are the first barter site that verifies users to enhance the security of their trades.
Verify your account after the registration and receive
10 POINTS as a BONUS ($10.00 value)!
This promotion is over. Thank you for the numerous participants!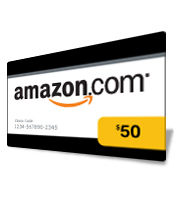 Win an Amazon Gift Certificate worth $50
BarterQuest is running a sweepstakes for EVERYBODY! For your chance to win an Amazon Gift Certificate, complete just ONE of the three steps available.
Just complete one of the following options:


Option 2
Become a fan of BarterQuest on FACEBOOK and post on our wall what you like about BarterQuest or bartering in general.

By tweeting on Twitter AND posting on Facebook AND inviting friends you increase your chances to win. Do your best and have fun! :-)

The winner will be announced after October 10th, 2010