This item is currently not listed.
Item Details

>
Art, Music, Drama
>
Music Instructor
> Voice Lessons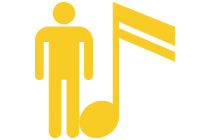 Voice Lessons
Item Number: 89656

References:
Available
User (Rating): ngsoprano
Not Rated
Provider's Location:
New York, NY 10019, United States
Service Area:
At my location only
Estimated Value:
65 points per hour

(one point = $1.00)
Last updated:
Private lessons with Nicole address the student's personal needs and specific goals related to singing and performing, in the realms of classical performance and musical theater. Through a detailed, holistic approach, artistry is cultivated in each individual, for application in rehearsal or on the performance stage. Regardless of age or skill level, she approaches the student with respect and professionalism within a safe and supportive environment, fostering enlightenment and creativity.
Her voice students have been nominated for NJ Paper Mill Playhouse's Rising Star Awards, win singing scholarships, earn leading roles in musicals, plays and opera productions, perform major choral works at Carnegie Hall, with Seattle Pro Musica, in church choirs and for weddings, release their own CDs, and perform in their own concert series.
Nicole has taught private voice lessons for several years, in New York, New Jersey, and Washington state. She has also taught in community music school settings and as a guest clinician for church and high school choirs and theater departments. Her holistic approach stems from her backgrounds in classical training, theater, vocal pedagogy, music education, and psychology. She is a member of the National Association of Teachers of Singing (NATS), Early Music America (EMA), and as a published co-lyricist, a member of the American Society of Composers, Authors, and Publishers (ASCAP).
Nicole is passionate about teaching voice to motivated teens and adults, from beginners to professionals, and is wholly committed to her students' growth and success. She teaches out of her NYC studio and is available for consultation.
Relax in #1 destination for Family Vacations
St. Thomas, US Virgin Islands
Only a few days left! Reserve it NOW! Starting $225!
Romantic Getaway on US Virgin Islands
St. Thomas, US Virgin Islands