This item is currently not listed.
Item Details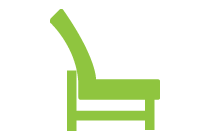 This is a full-sized (not a child's) vintage Tell City brand Boston rocker in a mahogany finish. It dates from the late 1950s/early1960s and is in near new condition. Tell City Chair Co. -- famous for its sturdy and distinctive chairs (especially the rockers) -- stopped manufacturing furniture last year, so there will never be any more of these. It already had tremendous collector value. Now it has more! Comes with a set of sat and back cushions in burnt orange corduroy -- also in great condition.
Relax in #1 destination for Family Vacations
St. Thomas, US Virgin Islands
Only a few days left! Reserve it NOW! Starting $225!
Romantic Getaway on US Virgin Islands
St. Thomas, US Virgin Islands