This item was removed by the owner.
Item Details

>
Other
>
Anything Else
> AED ReviveR Quick Response Kit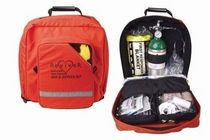 AED ReviveR Quick Response Kit
Item Number: 64621

Quantity:
1
User (Rating): barterguy46514
Not Rated
Will ship:
Local Pickup
Estimated Value:
2,700 points

(one point = $1.00)
Last updated:
Up for trade is a ReviveR™ AED Grab-N-Run Quick Response Kit
This bag was manufactured exclusively and allows you to easily transport the following items which are included:
• ReviveR AED
• Forty-minute Oxygen Tank
• First Responder Supplies
This unit is previously owned but never used. It is perfect for any business or organization with trained personnel on staff.
Open to any trade idea. Let me know what you have. The most I will do is say no thanks (I will more than likely ask if you have anything else.)