Item Details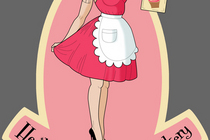 Logo Design
Item Number: 41229

User (Rating):

katmannelart

100.0% Positive
Provider's Location:
Carbondale, IL 62901, United States
Service Area:
Worldwide
Estimated Value:
10 points per hour

(one point = $1.00)
Last updated:
I am a college-trained artist with a Bachelor of Fine Arts degree who also works in graphic design. I am proficient in both Photoshop, Illustrator, and InDesign, and I can work to create a great logo for any project. I am also a very fast worker, so you will have a turn-around time of days rather than weeks, something a design firm cannot offer you.

Hide Q&A for this item

shay2shay

on Nov 09, 2012 3:52 PM EST

Hi are you interested in bartering with me? I'm interested in having you design my logo I can produce, write and record a commercial for you.
Please let me know if you are interested
Thanks
Shay

katmannelart

on Nov 11, 2012 10:40 AM EST
Hello!
I am most definitely interested. My fiance and I have a literary and arts magazine starting up, and we were hoping to start a fundraiser on Kickstarter (if you're not familiar, you might want to Google it--BarterQuest won't let me insert a link). Successful projects that receive full funding ALWAYS have an awesome video. Would that be something you could do?
What did you have in mind for your logo?
Thanks!
Kat