Item Details

>
Home & Garden
>
Contractor
> Home Theater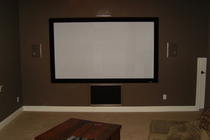 Home Theater
Item Number: 14370

Authorized:
Audio Engineering
References:
Available
User (Rating): advancedavs
Not Rated
Provider's Location:
Austin, TX 78731, United States
Service Area:
At my location only
Estimated Value:
125 points per hour

(one point = $1.00)
Last updated:
of Austin Texas was my one stop shop for all of my home electronic needs. They took all of my electronic goals and integrated them into one easy to use system that was personally designed to my specifications. This was the easiest way to make a complicated system more user friendly for my family. As a home owner I can come home and dis-arm my security system creating a macro that causes a chain of events to occur depending on what time of day or year it is. For example, when I dis-arm my system in the summertime and its dark outside, my system turns the thermostats to my desired temperature and sets my lights to the proper levels. I also have the ability to trigger other devices like window coverings and music to welcome me home. Thanks AVS!